Most of our customers sign up for this service as it covers everything needed going forward except for major changes.
Our Maintenance/Security Program Includes:
Quarterly Backup and Update
Every 3 months we will back up your entire site locally and then perform the maintenance to upgrade your website with the latest and most secure WordPress version and update all plugins, we'll then do Quality Control testing after the upgrade.  (We find about 20% of the time that we run WordPress updates there are plugins or theme templates not operating correctly that we have to work through the code to get things working correctly again)
You will be emailed once your backup and update has been completed

The cost of the maintenance program is primarily built around this service
Monthly Maintenance Time as Needed
Every month you will be able to take advantage of anywhere from 1 to 4hrs (based on your selected maintenance plan) of tech support, website training, or requested changes or improvements to your website.
You could also use this time for a Site Review / SEO advisory meeting where we can review your site's analytics and offer personalized suggestions about how we can change or add content to improve your website's traffic.
When you receive your quarterly maintenance complete email, we'll remind you that you can schedule time with us to review the site or request changes.
Bonus – Security Insurance
Should your site ever be hacked or have any security issue, we would spend up to 12 hours repairing / re-installing the site at no additional cost.   Rest assured we follow best practices to make your website fully secure, but there are always new threats that sometimes are impossible to prepare for.
Bonus – Monthly Analytics Reports
Every month you will receive an automated monthly report about the traffic your website is getting from your Google analytics account.
Frequently asked questions
Some website changes need more time to be either designed or developed.
Your maintenance plan with Stellar allows you to instantly get help and fixes on small things, without going through a scope proposal, invoicing and payment process.
In the case  your request requires more time than allocated, you would essentially receive a discount via use of your maintenance agreement time.
For example if you wanted a new Testimonials section on your homepage and a new page template that displays the most recent testimonials from Google reviews etc, you would receive an invoice that factors in a discount reflecting the monthly maintenance time. A 12 hour job would be billed at 10 hours for a customer with a 2 hours per month maintenance agreement.
Maintenance customer do receive high priority, turnaround is typically 3-5 business days for non-urgent requests.
If there is an urgent need, we will do our best to accomodate your needs within an agreed upon timeframe.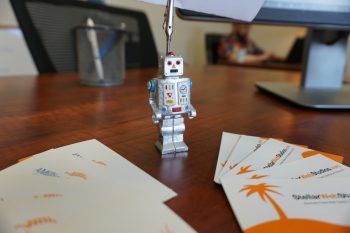 We are not a robot - let's talk!
You're here, we're here – let's cut to the chase.
Pick up the phone and give us a call, or request a call back so we can talk about your next move.