We are pleased to offer as of 2020 complete ADA Compliance packages.
Do you need an ADA / WCAG-2.1 Compliant website?
Does your business or organization need to be compliant?  Check out our recent blog article for information on this question.
3 Tiered Approach to Guaranteed ADA Compliance
1. An interface plugin that runs on top of your website
We have partnered with an dedicated website compliance service provide which gives users with accessbility needs a powerful toolkit that covers the following:
Font handling –

 users can increase and decrease its size, change its family (type), adjust spacing, alignment, line height, and more.

Color handling – 

users can select various color contrast profiles such as light, dark, inverted and monochrome. Additionally, users can swap color schemes of titles, texts, and backgrounds, with over 7 different coloring options.

Animations – 

e

pileptic users can stop all running animations in an instant, at the click of a button. Those animations include videos, GIFs and CSS flashing transitions.

Content highlighting – 

users can choose to emphasize important elements such as links and titles. They can also choose to highlight focused or hovered elements specifically.

Audio muting – 

users with hearing devices may experience headaches or other issues due to automatic audio playing. This option lets users mute the entire  website instantly.

Cognitive disorders – 

we utilize a search engine that is linked to Wikipedia and Wiktionary, allowing people with cognitive disorders to decipher meanings of phrases, initials, slang, and others.

Other options

 – we provide users the option to change cursor color and sizing, use a printing mode, enable a virtual keyboard and much more..
This interface costs $469/yr for websites with under 1,000 pages and $979/yr for up to 10,000 pages.
Call us today to get started with ADA Compliance – 978-710-8317
2. AI-powered Components
Included with the above solution, an AI will assist by adding alt tags to any images that may have missing descriptions, fixing menus and links, and making the entire site tab-friendly for keyboard navigation.
Screen-reader optimization: The AI runs in the background and learns the website's components top to bottom, thereby providing screen-readers with meaningful data using the ARIA set of attributes. For example, it will provide accurate form labels; descriptions for actionable icons (social media icons, search icons, cart icons, etc.); validation guidance for form inputs; element roles such as buttons, menus, modal dialogues (popups), and others.Additionally, the AI scans all of the website's images and provides an accurate and meaningful image-object-recognition-based description as an ALT (alternate text) tag. It will also extract texts that are embedded within the image, using an OCR (optical character recognition) technology. To turn on screen-reader adjustments at any time, click the Alt+1 keyboard combination. Screen-reader users also get automatic announcements to turn adjustments on as soon as they enter the website.
Keyboard navigation optimization: The AI adjusts the website's HTML, as well as adding various behaviors using JavaScript code to make the website fully operable by a keyboard. This includes the ability to navigate the entire site using the TAB and SHIFT+TAB keys, operate dropdowns with the arrow keys, close them with ESC, trigger buttons and links using the Enter key, navigate between radio and checkbox elements using the arrow keys, fill them in with the Spacebar or Enter key, and more.Additionally, keyboard users will find quick-navigation and content-skip menus (available at any time by clicking Alt+1). The AI will also handle triggered popups by moving the keyboard focus towards them as soon as they appear, and It'll not let the focus drift outside of it, for best orientation.
3. Manually reviewed external links and content
As much as a modern technological advancement can assist with the process of making your website ADA compliant, some manual work may also be needed for the following types of content:
PDF Links
Google Doc Links
YouTube Videos or other videos
Those kinds of content need to be captioned and updated to meet compliance requirements, we have standardized services available for this work as follows:
Transcribe or describe videos (captions, etc) – up to 2 hours of video content – $500 per hour of video content (equates to ~$8 per minute of video).
Remediate PDFs, Word Docs or Google Docs to be fully accessible – $40 per page that is deemed to need work.
Understanding ADA Compliance Requirements
The following content was created by OpenForge – we think they did an excellent job summing up the complicated Web Content Accessbility Guidelines as created and outlined by The World Wide Web Consortium (W3C).
Principle 1 – Perceivable

Guideline 1.1 – Text Alternatives

All non-text content (images, video, etc) have a text alternative tag

 Guideline 1.2 Time-based Media

Pre-recorded alternatives are available for any time-based media
Captions are provided for all prerecorded audio content in synchronized media
Audio description or media alternatives are provided

Guideline 1.3 – Adaptable

Info and relationships can be determined programmatically or in the text (as opposed to purely through presentation)
If content meaning is derived from it's sequence, the same sequence must be available programmatically as well
Instructions should not rely on sensory characteristics (shape, sound, size, etc)

Guideline 1.4 – Distinguishable

Use of color is not used as the only visual means of conveying information
If any audio plays for more than 3 seconds, the system must include a mechanism to pause or stop the audio independent from the overall system volume.

Principle 2 – Operable

Guideline 2.1 – Keyboard Accessible

All functionality of the content is operable through a keyboard without requiring timing for keystrokes.
If keyboard focus can be moved to a component of the page using a keyboard interface; then the focus can be moved away from that component using only a keyboard interface.
If a keyboard shortcut is implemented using only letters, then the user must be able to turn off, remap, or activate the shortcut only on focus.

Guideline 2.2 – Enough time

If there is a time limit set by the content, it should be adjustable
Pause, Stop, Hide – see full description

Guideline 2.3 – Seizures and Physical Reactions

Web pages do not contain anything that flashes more than three times in any one second period, or the flash is below the general flash and red flash thresholds.

Guideline 2.4 – Navigable

A mechanism is available to bypass blocks of content that are repeated on multiple web pages
Each page has a title that is descriptive
If a page can be navigated sequentially, it should be navigable using focusable elements in the same sequence
The purpose of each link can be easily determined

Guideline 2.4 – Input Modalities

All functionality that uses multipoint or path-based gestures for operation can be operated with a single pointer and without a path-based gesture, unless it's essential.
Component names should contain the text that is presented visually (if they include text or images of text)

Principle 3 – Understandable

Guideline 3.1 – Readable

The default human language can be programmatically determined

Guideline 3.2 – Predictable

When any component receives focus, it does not initiate a change of context
Changing the setting of any user interface component does not automatically cause a change of context unless the user has been advised of the behavior before using the component.

Guideline 3.3 – Input Assistance

For each input error, identify the item that has caused an error and describe via text to the user
Provide labels or instructions when content requires input

Principle 4 – Robust

Guideline 4.1 – Compatible
Ready to Become ADA Compliant?
ADA compliance can be a challenging process, but Stellar Web Studios are here to make the process simple, streamlined and achievable.
Please give us a call at 978-710-8317 or email us to make your business compliant this year.
ADA WCAG 2.1 Compliance
Make your website compliant
$
469
Annual fee - this is a discounted price compared to buying directly from Accessibe.
Powered by Accessibe service
Frequently asked questions
We are an authorized reseller of Acessibe.  We provide a discount as an incentive when you purchase Accessibe directly from us, we also include setup and customization of provided options.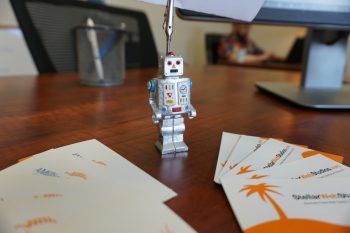 We are not a robot - let's talk!
You're here, we're here – let's cut to the chase.
Pick up the phone and give us a call, or request a call back so we can talk about your next move.