Work one on one together with an experienced web designer/developer to build your starter site.
The Build it Together service is the top choice for our clients who want to create a modern web presence on a budget. 
If you are a small business owner just starting out and want to work with an experienced developer for the entire process of getting your website built, this is an ideal choice for you.
How does it work?
1. Getting it Built
In just 4 virtual sessions, we'll work together to create a clean, attractive, easy-to-use website that represents your brand and appeals to your customers.
Set-Up and Launch Fee – $300 one time
Four 90-minute work sessions – $150/ea
Each session is 90 minutes where we work together on a call. Payments are due prior to each session. 
What's included?
Up to 5 pages (Home, Services, About Us, Contact, etc)
1 Contact Form
Up to 4 blocks/sections on your homepage (excluding header/footer)
Core content creation assistance and integration for your pages as needed
Our Build it Together Launch Checklist
2. Getting it Launched, Hosted, and Maintained
After the 4th session, or once the website goes live (whichever comes first), the monthly hosting and maintenance plan commences which is $35/mo.  There is a 2 year minimum contract. This is how we keep the initial price so cost-effective.
What's included?
Pro Business Hosting – Billed at $15/month, on our Dedicated server powered by InMotion Hosting – $180 annual cost
Maintenance – Annual backup and update – $200 value
Support – Up to 1 hour of support over every two months included – Billed – up to $600 value ($100/hr is our billing rate outside of this billing plan) 
Security Insurance 6hrs max
Why our clients love it
You have the opportunity to participate in all the website decisions such as colors, images, inspiration websites, content – all while having your site come alive before your eyes. During the process you'll be learning how to work with your website to edit existing content or create new pages after it launches. This service includes a 2 year maintenance plan. Your website will be kept up to date with cutting edge technology and the opportunity to continue to improve your web presence.
Build it Together Website
One on One Website Built with an Experienced Developer
Website Marketing / Content Work

Learn how to Work on your website after launch
Frequently asked questions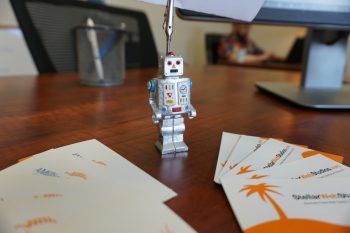 We are not a robot - let's talk!
You're here, we're here – let's cut to the chase.
Pick up the phone and give us a call, or request a call back so we can talk about your next move.